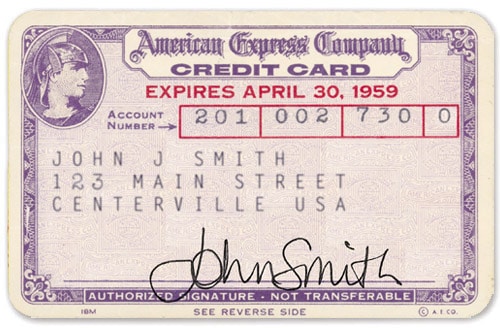 You may be surprised to realise how the introduction of plastic cards has changed your lifestyle so dramatically in a relatively short period of time.  Twenty years ago few of us would have imagined that by 2012 plastic cards would have virtually replaced cash, driven the cheque book to virtual extinction, controlled your means of identification, replaced keys, influenced your shopping habits and governed your ability to borrow a book, enter a gym or even get on a bus.
The UK Card Association has a full history of the development of plastic cards in the UK including the introduction of the American Express card in 1958. It is hard to believe that it is only 45 years ago that the worlds first cash machine was installed by Barclays Bank in Enfield Middlesex.  It was only 25 years ago that the first electronic point of sale terminal appeared with the ability to read the magentic stripe that was developed by IBM as a security feature in 1960.  Who remembers the old hand held machine that copied your embossed plastic card details on to carbonised payment slips?
In 1994 half of all UK adults held a plastic debit card and were regular users of a cash machine and by 1999 half of all UK adults held a credit card.  2001 saw half of UK retail spending on plastic cards with more than 100 million plastic card payments made online.  Chip & pin is taken for granted now and an everyday occurence but it was only in 2003 that the first trials were undertaken.  2004 was the year that plastic card expenditure exceeded cash payments for the first time.
In 1993 Tesco changed the way we shop by introducing the Tesco Club Card.  It enabled them to offer rewards and discounts but also to gather priceless information about people's shopping habits and trends.  It changed the retail business overnight.  Sainsbury's rejected a similar idea initially but were forced to reverse that decision after the effect Tesco's Club Card had on its sales and have since introduced the Nectar Card.  By 2008 Tesco had 7 million Club Card holders and now virtually all stores and retail outlets offer a similar scheme or a plastic store card, plastic loyalty card or plastic incentive card of some kind.  Plastic gift cards have now almost replaced vouchers and make up a huge percentage of the gift buying side of retail.
The way we carry and prove our identification has changed completely.  We wear or carry a photo ID card at work.  We now produce a plastic bank card or our plastic driving licence as identification.  Do we need a National ID Card or have we already got one in some other form?
Initially plastic cards were expensive and difficult to manufacture and only used by large organisations.  The development of printing and manufacturing techniques has enabled virtually all types of businesses, clubs, organisations etc to introduce plastic cards in some way at a reasonable cost.
Where will we be in the next 40 years?  Will we be controlled even more by plastic cards or will they develop into something more technical or even be replaced?